2006 | OriginalPaper | Buchkapitel
Adaptive probabilistic modeling of localization, failure and size effect of quasi-brittle materials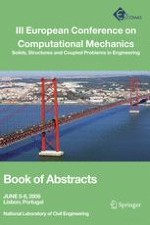 Erstes Kapitel lesen
Autoren: Miroslav Vořechovský, Rostislav Chudoba, Jakub Jeřábek
Verlag: Springer Netherlands
Objective simulation of response of nonlinear structures must reflect the spatial variability of local material properties. The main target of the paper is to present ideas behind a computational tool oriented toward adaptive nonlinear simulation driven by spatially (and randomly) varying model properties which is currently under development by authors. In particular, we focus on detailed tracing of the evolution of damage or other nonlinear phenomena during loading of structure with varying properties by nonlinear finite element method with mesh refinement/coarsening in highly/low stressed or damaged regions. We have developed the major ingredients of the algorithm and we present the current stage of progress on the computational platform in this paper. The computations is illustrated on a simple one-dimensional example involving a bar made of plastic material with hardening under uniaxial tension.
The spatial random fluctuation of material properties (eg. strength, modulus of elasticity, fracture energy, etc) is modelled by mean of random fields. We aim at solving the problem involving such an uncertainty by means of simulation. In particular, we suppose to have the generated the sample functions of random properties and the task is to accurately reproduce the processes during loading of structures by a numerical method.
The presented work relies heavily on combining several concepts and methods from the fields of adaptive finite element modeling and simulation of random fields. Their combination is supposed to yield innovative tools for analyzing and describing e.g. size effect phenomena. The established innovative computational platform (based on the noncommercial platform ORFEUS being developed at RWTH Aachen, Germany) will make it possible to simulate the failure processes for levels of complexity that cannot be tackled or is difficult to model with the currently available models and tools. The adaptive finite element method is effectively combined with the simulation of random fields in order to capture damage and failure phenomena in quasi-brittle materials. In contrast to the usual adaptivity, driven by error minimization or crack propagation, we aspire to control the adaptations of the numerical model by the resolution scale needed to capture the evolution of the damage. This will allow us to zoom only into the critical regions of the model and to significantly limit the computational effort of a nonlinear iteration process (while ensuring that nothing important has been overlooked). The main goals of the development of such an adaptive computational strategy are:
to capture the complex phenomena associated with heterogeneous material behavior including damage localization,
to significantly reduce the computational cost that arises for any fine resolution of the discretization,
to study the size effect in all its complexity with both the statistical and energetic components, including their interaction, and
to provide a robust numerical platform for future development and validation of alternative analytical statistical methods.