01.01.2015 | Ausgabe 1/2015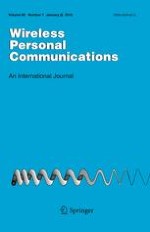 Adaptive Resource Allocation Algorithms for Multi-user MIMO-OFDM Systems
Zeitschrift:
Autoren:

Najib A. Odhah, Emad S. Hassan, Mohamad Abdelnaby, Waleed E. Al-Hanafy, Moawad I. Dessouky, Saleh A. Alshebeili, Fathi E. Abd El-Samie
Abstract
Radio resource allocation to the system users is the key challenge issue in multi-user orthogonal frequency division multiplexing (MU-OFDM) systems. In this paper, an efficient and low-complexity proportional rate-adaptive radio resource (sub-carrier and
power
) allocation algorithm for MU-OFDM is proposed to maximize the sum-rate capacity of the system and achieve acceptable users' rates fairness. Three-dimensional (spatial, frequency, and multi-user) greedy power allocation (GPA) algorithms for the MU multi-input multi-output OFDM (MU MIMO-OFDM) systems are proposed. The proposed algorithms start with spatial sub-carrier allocation followed by an optimal two-dimensional spatial-frequency GPA (SFGPA) step, which exploits both the spatial and frequency diversities. Therefore, spatial, frequency, and multi-user diversities are exploited by the proposed three-dimensional GPA algorithms. Several experiments are carried out to test the performance of the proposed three-dimensional GPA algorithms in terms of sum-rate capacity. The optimal solution is achieved by the three-dimensional dynamic sub-carrier-SFGPA with average gain (DS-SFGPA-AG) algorithm, which achieves the best sum-rate capacity performance compared with the other power allocation algorithms. The performance of the DS-SFGPA-AG algorithm is also analyzed and compared for the four OFDM-based systems; single-user (SU) OFDM, SU MIMO-OFDM, MU OFDM, and MU MIMO-OFDM. The MU MIMO-OFDM system with adaptive sub-carrier and power allocation outperforms the other systems.