2019 | OriginalPaper | Buchkapitel
Adaptive Topology and Shape Optimization with Integrated Casting Simulation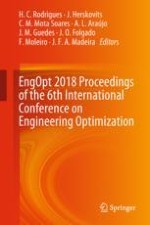 Erstes Kapitel lesen
Autoren: Thilo Franke, Sierk Fiebig, Ronald Bartz, Thomas Vietor, Julian Hage, Anneke vom Hofe
Abstract
The automotive future demands light and affordable designs and components. To develop lighter parts in a decreased time structural optimization is used in many R&D departments.
To ensure an ideal design of cast parts in the topology optimization a casting simulation is integrated in the optimization procedure. With this additional simulation the castability can be optimized in parallel to the mechanical properties and the weight. The result is a manufacturable and light structure, which can be transferred into a real part easily. To describe the geometry a regular voxel mesh in combination with a binary design variable per element was used in the past.
In this paper an approach is shown to use the available routines of the topology optimization to optimize the shape of the part on a small scale, too, and provide a smooth optimization result. This is done by using a design variable per element, which can be continuous between zero and one in the surface layer. In this way all implemented functions and manufacturing restrictions can be used for both topology and shape optimization. To avoid numerical difficulties the FEM simulations are done with a converted tetrahedron mesh. This increases the quality of the simulation by guaranteeing a smooth surface and avoiding sharp edges. The CFD based casting process simulation is still done with the very fast, structured hexahedron elements. The results of the simulations are mapped on the optimization model to change the part design again. Beside the increased degrees of freedom for doing shape optimization and the higher simulation quality with adapted meshes this optimization procedure allows easier the smoothing of the surface.