24.12.2019 | Methodologies and Application | Ausgabe 15/2020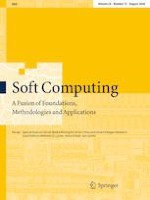 Adaptive wavelet ELM-fuzzy inference system-based soft computing model for power estimation in sustainable CMOS VLSI circuits
Zeitschrift:
Autoren:

T. Kuntavai, A. Jeevanandham
Wichtige Hinweise
Publisher's Note
Springer Nature remains neutral with regard to jurisdictional claims in published maps and institutional affiliations.
Abstract
Rapid growth of very large-scale integration (VLSI) technologies has achieved integrating millions of transistors into a single chip. This integration into a single chip results in complex circuitry, and hence, it is required to have minimal cost and low complex power estimation approaches. Power estimation of VLSI circuits at an initial stage is most prominent because it increases the life and stability of the circuit. In this work, a modified version of extreme learning machine (ELM) neural network called as adaptive wavelet extreme learning machine neural network model (AWELM) is developed and integrated with a designed fuzzy inference system (FIS) for computing power in respect of standard International Symposium on Circuits and Systems 1989 (ISCAS 1989) benchmark circuits. The proposed method is devised to estimate the power accurately for the complementary metal oxide semiconductor VLSI circuits. The developed method does not require prior knowledge about the circuit architecture and its connections. The new AWELM-FIS technique developed in this paper estimates the power in the circuit based on the input and output information and various data of gates pertaining to VLSI circuit itself. The developed method is investigated for its validity and effectiveness by comparing it with the existing methods reported in earlier literature studies, and to train the new model, the results presented in the literature of ISCAS 1989 have been employed. Results prove the effectiveness of newly proposed AWELM-FIS approach over all other compared methods from the existing literatures.