01.04.2015 | Ausgabe 2/2015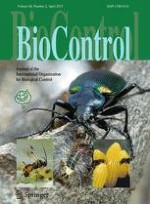 Adding "personality" to biocontrol: characterization and suitability of microsatellites for sibship reconstruction in the aphid parasitoid
Diaeretiella rapae
Zeitschrift:
Autoren:

Isabelle Eisele, Rainer Meyhöfer
Wichtige Hinweise
Handling Editor: Stefano Colazza
Abstract
Efficiency of natural enemies in pest control in the field frequently shows high degree of variability, making it difficult to propose reliable biocontrol strategies. Due to the small size of many beneficals, underlying mechanisms are difficult to evaluate. In the present study the potential of molecular markers to reconstruct individual foraging decisions of a small parasitoid species unsuitable for direct tracking, i.e.
Diaeretiella rapae
(M`Intosh) (Hymenoptera: Braconidae), a primary parasitoid of the cabbage aphid
Brevicoryne brassicae
(Linnaeus) (Hemiptera: Aphididae), was evaluated. Nine newly designed microsatellite primer pairs were tested for their reliability in parentage analysis. Therefore, several families of
D.
rapae
with four to six daughters and high or low degree of inbreeding were established in the lab. Individuals were genotyped and parentage and sibship analysis was calculated with the software COLONY. The results indicated that 91 % of the 85 genotyped offspring from all families have been assigned to the correct family when all nine microsatellite loci have been used and 86 % when only six microsatellite loci have been used. Even in families with high degree of inbreeding up to 87 % of the offspring could be assigned correctly. In conclusion, the sibship analysis of
D. rapae
provides reliable results, especially with all nine selected microsatellite loci. Therefore it will be a valuable tool to reconstruct individual foraging decisions and characterize parasitoid "personality" in the field to improve biological control strategies.