2011 | OriginalPaper | Buchkapitel
44. Adhesively Bonded Joints in Aircraft Structures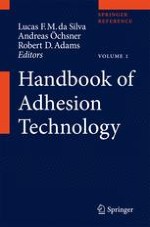 Erstes Kapitel lesen
Autor: Dr. L. John Hart-Smith
Verlag: Springer Berlin Heidelberg
Abstract
This chapter focuses on experience with adhesively bonded joints in aircraft structures. It covers their analysis (emphasizing the inherent nonuniformity of adhesive bond stresses), their design, some common pitfalls in past and current practices (the worst of which is the continued myth that adhesive bond load transfer is distributed uniformly over the bond area, so that all that is needed to make stronger joints is more bond area), the critical need for ensuring that the glue is stuck (
not
by after-the-fact monitoring, which is all but impossible and therefore unreliable, but by proper specifications and quality control
during
manufacture). It covers the load redistribution around defects and damage, showing that not all damage causes an immediate loss of strength (even though repairs may be necessary to protect against subsequent environmental degradation). It emphasizes a little-appreciated point that the adhesive bond, itself, must
never
be designed to be the weak link in the chain of strength, so that it cannot act as an instantly catastrophic fuse; the weak link must be in an adherend
outside
the joint for bonded designs to be reliable. The chapter also includes a discussion of the choice of appropriate bonding tool concept and the great benefits from sometimes using nontraditional tools. The key issue is shown to be that the governing tolerance is not that for the parts, or the tool, but for the thickness of the bond line. The real critical tolerance is on the order of 0.025 mm (0.001 in.),
not
±0.4–0.8 mm (0.016–0.032 in.). This requires a far more thorough coordination between design of the parts and the bond tool than has customarily been applied in the past. It is made abundantly clear that tighter and tighter tolerances on the parts and tools is
not
the way to go. One
must
rely on a drape-to-fit manufacturing philosophy, the benefits from which are shown to be enormous. The issue of inspection is discussed because a failure to understand what can work and what needs to be checked has led to far reaching adverse consequences. Misplaced faith in after-the-fact inspections is shown to have replaced the proper emphasis on proper process control during manufacture. It is shown to be impossible to restore 100% of bonded joint strength after it has been manufactured incorrectly (or manufactured "correctly" in accordance with process specifications that simply do not work). And the futile search for the Holy Grail of being able to monitor degradation of bond strength during service has led to a ban on using this technology, in some instances, even when there is
no
other alternative approach that works. The chapter concludes with examples of the successful widespread application of adhesively bonded joints in aircraft primary structure.