01.04.2020 | Original Article | Ausgabe 8/2020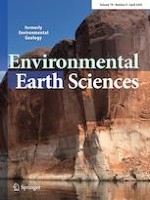 Adsorption of lead and cadmium from aqueous solution by Gunungkidul zeolitic tuff, Indonesia
Zeitschrift:
Autoren:

Wawan Budianta, Norma Dian Andriyani, Adinda Ardiana, I. Wayan Warmada
Wichtige Hinweise
Publisher's Note
Springer Nature remains neutral with regard to jurisdictional claims in published maps and institutional affiliations.
Abstract
This study focuses on utilizing zeolitic tuff as a novel adsorbent for lead and cadmium solution. Two zeolitic tuff samples were obtained from Tegalrego and Bantengwareng village, Gunungkidul, Yogyakarta, Indonesia. Zeolitic tuff sample characterization was carried out by conducting microscopic and X-ray diffraction analysis, cation exchange capacity, and chemical measurement. Batch adsorption tests were carried out for the study of isotherms with the Langmuir model. The results of characterization showed that the Bantengwareng and Tegalrejo zeolitic tuff sample consist dominantly of mordenite mineral and other impurities. Bantengwareng zeolitic sample revealed had higher mordenite and smectite content compared to Tegalrejo zeolitic tuff sample which effects to the adsorption capacity. The batch adsorption test showed the adsorption ability of the Bantengwareng zeolitic tuff sample achieved for 76% of lead and 69% of cadmium; however, the Tegalrejo zeolitic tuff sample achieved for 51% of lead and 26% of cadmium. The result of isotherm study based on Langmuir equation revealed that the adsorption capacity of Bantengwareng and Tegalrejo zeolitic tuff samples has a value of 416.67, 384.61 and 277.77, 243.91 mg/g for lead and cadmium, respectively. The correlation coefficient based on Langmuir model varied from 0.866 to 0.956, which suggests that isotherm models fit very well. The reusability study revealed that the efficiency decreased reduce up to 30% after third cycles; however, the zeolitic tuff samples in study area are considered as part of its adsorption potential for lead and cadmium solution.