07.02.2017 | Ausgabe 2-3/2017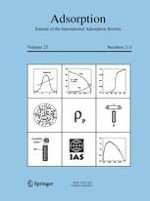 Adsorption of volatile organic compounds in composite zeolites pellets for space decontamination
Zeitschrift:
Autoren:

Guillaume Rioland, Habiba Nouali, T. Jean Daou, Delphine Faye, Joël Patarin
Abstract
FAU–*BEA-types zeolites pellets were elaborated with a hydraulic press in the presence of a small amount (5 wt%) of binder [methylcellulose (MC) or anhydrous sodium metasilicate (Na
2
SiO
3
)] for molecular decontamination, in particular for the space field. Nitrogen sorption–desorption revealed a small loss of micropore volume (10%) with a compression load of 6 tons (0.24 cm
3
/g instead of 0.27 cm
3
/g for the mixture of FAU and *BEA-types zeolites powders), which can be attributed to a partial amorphization. Adsorption kinetics of
n
-hexane, and cyclohexane showed that the optimum pellets can adsorb volatile organic compounds. For example, FAU–*BEA-type zeolite powder mixture (50 wt% of each zeolite) adsorb 130 mg of
n
-hexane per g of anhydrous zeolite whereas the pellets made with 5 wt% of MC or Na
2
SiO
3
adsorb about 117–118 mg of
n
-hexane per g of anhydrous zeolite. These results are coherent with the ones obtained with the cyclohexane and nitrogen adsorption where a small loss of the adsorption capacities was observed.