13.01.2016 | Original Paper | Ausgabe 4/2016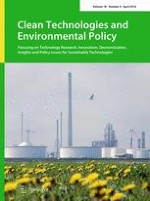 Adsorptive desulfurization by zinc-impregnated activated carbon: characterization, kinetics, isotherms, and thermodynamic modeling
Zeitschrift:
Autoren:

Sandeep Kumar Thaligari, Vimal Chandra Srivastava, Basheswar Prasad
Wichtige Hinweise
Electronic supplementary material
The online version of this article (doi:
10.​1007/​s10098-015-1090-y
) contains supplementary material, which is available to authorized users.
Abstract
Sulfur oxides emission because of burning of liquid fuels has become a global environmental challenge. Refineries need to meet ever-stringent liquid fuel standards by using newer desulfurization methods. Present paper reports the results of the studies on adsorptive removal of sulfur compounds from model fuel by zinc-impregnated granular activated carbon (GAC). Zn-loaded adsorbent (Zn-GAC) prepared by wet impregnation method was characterized for its textural, morphological, and structural characteristics by different techniques like liquid nitrogen adsorption, X-ray diffraction (XRD), scanning electron microscopy (SEM), and Fourier transform infrared spectroscopy (FTIR). The adsorbent was further used for the removal of dibenzothiophene (DBT), a sulfur compound, from iso-octane. Equilibrium adsorption was obtained in 6 h. The equilibrium adsorption data were well represented by the Redlich–Peterson isotherm. Thermodynamic parameters were calculated by applying the van't Hoff and Clausius–Clapeyron equations. Values of change in enthalpy and entropy were found to be 4.89 kJ/mol and 30 J/mol K, respectively. Isosteric heat of adsorption was correlated with surface coverage and heterogeneous nature of the Zn-GAC.