2018 | OriginalPaper | Buchkapitel
10. Advanced Wind Turbine Control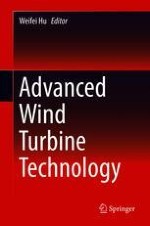 Erstes Kapitel lesen
Autor: Na Wang
Abstract
In the wind industry, research needs exist in the areas of reduction of wind turbine structural loads and maximization of wind energy capture in order to reduce the cost of wind energy. For modern large-scale variable-speed variable-pitch wind turbines, these goals can be achieved via the use of modern controllers. Current commercial wind turbine control algorithms are typically feedback only and operate on a feedback signal such as the error in rotor speed or power out of the turbine.
Recent advances in light detection and ranging (LIDAR) systems, which can provide real-time upcoming wind speed or direction measurements in front of the turbine using lasers, open a new area of research in feedforward wind turbine control. Feedforward controllers that use preview wind measurements can compensate for the effect of wind disturbances on rotor speed and turbine structural components (blades, tower, shaft, etc.). Feedback controllers can be augmented with these feedforward control strategies to improve turbine performance compared to feedback only controllers.
In this chapter, numerous advanced control techniques for wind turbine fatigue load alleviation and power enhancement have been reviewed. Two combined feedforward and feedback control designs are discussed for use with the 600 kW controls advanced research turbine (CART3) at the National Renewable Energy Laboratory's (NREL) National Wind Technology Center (NWTC).