2020 | OriginalPaper | Buchkapitel
10. Advances and Challenges in BiOX (X: Cl, Br, I)-Based Materials for Harvesting Sunlight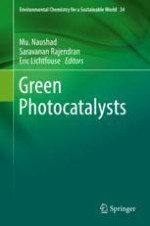 Erstes Kapitel lesen
Autoren: David Contreras, Victoria Melin, Gabriel Pérez-González, Adolfo Henríquez, Lisdelys González
Abstract
Photocatalysts can use sunlight to catalyze chemical reactions. These materials follow the global trend of performing chemical processes under the twelve principles of green chemistry and have emerged as a promising technology to demonstrate new ways of collecting sunlight for environmental applications and the removal of contaminants. Photocatalysts are being incorporated in green chemistry and used to improve chemical processes.
The use of photocatalytic processes with semiconductor photocatalysts has the advantage of allowing recovery and reuse of the photocatalyst for further applications. The most well-known photocatalyst material is titanium dioxide (TiO2); however, in the past 10 years, bismuth oxyhalides have been widely studied. Among the advantages of bismuth oxyhalides is a wide range of band gap energies, reaching values in the visible spectrum. This is a great improvement as the solar spectrum has 50% of its radiation in the visible range, allowing more efficient collection of sunlight. Moreover, within the bismuth photocatalysts synthesized to date, oxyhalides have lower costs and use fewer polluting reagents; hence, they fit well into the "green photocatalysts" group.
In this chapter, the main characteristics of the synthesis routes and doping strategies of BiOX-based materials will be reviewed in detail. In addition, the main uses of BiOX in energy, environmental remediation, and green chemistry fields will be discussed.