2022 | OriginalPaper | Buchkapitel
4. Advances in Forms of Transport—Steam Locomotives, Cycle Tyres, Oceanic Liners, and Jet Aircraft. Transport Infrastructure—Canals, Roads, and Commercial Railways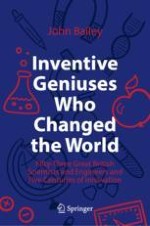 Erstes Kapitel lesen
Autor: John Bailey
Abstract
During the Industrial Revolution, manufacturing was transformed from cottage industries into urban industrial phenomena, driving economic growth. Public transport became available to rich and poor, reshaping our country and improving the lives of many Britons. Because of these changes, society experienced a 'time-travel' compression. Life's constant struggle for survival was gradually replaced by some material comforts and leisure.
After the Roman invasion of a country called Albion in AD 43, it became Provincia Britannia. The occupying Romans set about building several thousands of miles of paved roads and a few navigable canals, primarily for the transportation of troops and military supplies across their newly conquered territory. This network subsequently provided vital infrastructure for commerce, trade and the transportation of goods. Surprisingly, the framework for internal communication by land or water lacked substantive development until the mid-seventeenth century.
In the eighteenth century, road and water travel were revolutionised by the turnpike and canal systems that made the Industrial Revolution possible. The modern age is characterised by speed of physical communication and the ability to traverse long distances with increasing ease by road, water, rail and air.
Railways—a British invention—gave the Industrial Revolution its impetus and staying power, and transformed the lives of millions, especially when they were adopted internationally. Ocean and air travel made it possible to visit distant continents, whilst pedal bicycles and motor cars democratised travel locally.
British inventors and engineers involved with transport and its infrastructure helped to facilitate the Canal Age, the Industrial Revolution, the Railway Age, oceanic travel, and the Jet Age.
James Brindley was semi-literate, but a natural genius—wise without formal education. Self-taught, he had uncommon talents regarding the application of mechanical principles. He became a civil engineer and canal-builder, executing works new to Great Britain. He combined technical brilliance with the beautifying transformation of our rural landscape, to begin the construction of a network of inter-connecting, man-made waterways. Their pathways were strategically chosen, originally passing though sleepy villages and towns that would then develop into industrial powerhouses. They became transport arteries across the country, linking sources of raw materials to industrial heartlands where they were converted into useful items utilised by citizens in major British cities and beyond.
John McAdam developed new methods of road construction which, with minor refinements, are still in use today.
George Stephenson was an unschooled miner's son; a rags-to-riches success story, learning his engineering skills empirically by trial and error, thereby mastering the laws by which steam engines worked. He and his son, Robert Stephenson, were the cornerstones of railway infrastructure. They promoted the Railway Age, making key refinements to steam locomotives and superintended construction of vast swathes of the railway network, including the world's first inter-city line. First came the Stockton and Darlington Railway which was the prototype modern railway offering a passenger service, as well as freight transport. Alongside the growing railway network, Cooke and Wheatstone were involved with a telegraphic signalling method for British railways.
Isambard Brunel played his role in railway construction, tunnels, railway stations, docks, novel bridge design, as well as creating futuristic oceanic passenger liners with engineering innovations adopted decades later. His largest ship was used to lay the first successful trans-oceanic telegraphic cable. Brunel is one of the titans of engineering, combining an artistic flair with engineering prowess to create some Victorian edifices celebrated for their fine architectural features and functionality.
Almost every road vehicle on the planet is cushioned from the road by air entrapped in pneumatic tyres. Their development came in two stages, both resulting from the inventiveness of two Scotsmen, namely, R.W. Thomson and John B. Dunlop. The first pneumatic inflatable tyre was invented to improve the speed and comfort of horse-drawn carriages, whilst the second was developed for cycles.
Dunlop was a veterinarian. He was a most unlikely inventor, being neither an engineer nor cyclist, just an inveterate tinkerer. He is credited with realizing that vulcanised rubber could withstand the wear and tear of being a tyre, whilst retaining its resilience.
Coupling the 'safety bicycle' with the pneumatic tyre meant that people became less dependent on horses and horse-drawn carriages and had the personal means to travel beyond their local communities. It was particularly liberating for women. The timely arrival of his pneumatic tyre was critical to the rapid uptake of the motor car, providing both traction and a cushioning effect, giving a more comfortable ride.
Not wishing to be totally isolated on an island state, we invented faster and safer forms of oceanic passenger travel (Brunel) and speedier transport through the skies. Frank Whittle's 1928 thesis and 1930 patent revolutionized aviation in the way military and civilian aircraft are propelled via the jet engine. His name is immortalised in the annals of aviation history. Like others reported in this manuscript, he had an innate desire to search into the unknown.
Whittle invented the turbojet method of aircraft propulsion. He became the Father of the Jet Age, leaving an impressive jet engine lineage which radically changed the speed at which we travel around the globe.
Whittle's story is one of triumph over adversity. With his steely determination, he fought an epic battle against social and academic obstacles, officialdom, lack of funding, entrenched technical opinions and discouraging opposition. Having engineering brilliance, he developed an unrivalled grasp of the fundamentals of thermodynamics and aerodynamics, leaving a profound mark. His jet engine was to aviation, what Stephenson's Rocket was to the railways.
Whittle filed his first patent for jet-propelled aircraft in 1930. He built and ground-tested the first liquid-fuelled, turbojet, bench engine in April 1937. His designs were extremely radical. The Air Ministry, however, were wedded to piston engines and dismissed his plans as impracticable. Their slow realization of the importance of his invention allowed Germany to seize the initiative in jet development during WW2. Germany won the race to develop the first jet-powered flight in August 1939. Britain's Gloster Meteor was the first Allied jet fighter to fly a combat mission in late July 1944. The German Me-262 jet fighter entered squadron service in June 1944 but was not active operationally, with the Luftwaffe, until early October.
Whittle's jet engines were masterpieces of simplicity in design and construction and, collectively, may be described as the most significant mechanical invention in the twentieth century, transforming the aviation industry.
After WW2, most turbojet manufacturers based their engines on Whittle's blueprints and there followed another short, but golden era of British engineering and industrial prowess. With their great power and compactness, his engines were at the forefront of aviation development for many years. His turbojet technology was applied to commercial passenger airliners and transport aircraft, allowing them to fly higher, faster, and further than ever before. They changed our lives by making the World "a smaller place". The Jet Age had begun, and Britain was at its forefront.
At the end of WW2, the aircraft industry was our biggest industry employing about 1 million people, sustaining about thirty separate companies, some household names. British aero-engineers and test pilots were highly prized. Until 1966, when foreign aircraft were allowed, the annual Farnborough Air show was a pageant of British ingenuity and innovation, demonstrating superlative engineering.
Notable civil aeroplanes with jet engines include the Vickers' Viscount (world's 1st turboprop with Rolls Royce Dart engines); de Havilland's Comet (1st pressurised commercial jet airliner with Ghost turbojet engines); Vickers/BAC's VC10 with rear-mounted, Rolls Royce Conway turbofan engines for long-haul and short take-off. Until 2015, only the supersonic Concord had travelled across the Atlantic faster than the subsonic, VC10.