10.10.2020 | Regular Paper | Ausgabe 1/2021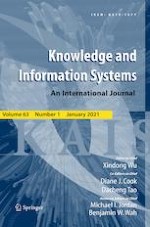 Adversarially regularized medication recommendation model with multi-hop memory network
Zeitschrift:
Autoren:

Yanda Wang, Weitong Chen, Dechang Pi, Lin Yue
Wichtige Hinweise
Publisher's Note
Springer Nature remains neutral with regard to jurisdictional claims in published maps and institutional affiliations.
Abstract
Medication recommendation is attracting enormous attention due to its promise in effectively prescribing medicines and improving the survival rate of patients. Among all challenges, drug–drug interactions (DDI) related to undesired duplication, antagonism, or alternation between drugs could lead to fatal side effects. Previous researches usually provide models with DDI knowledge to achieve DDI reduction. However, the mixed use of patients with different DDI rates places stringent requirements on the generalization performance of models. In pursuit of a more effective method, we propose the adversarially regularized model for medication recommendation (ARMR). Specifically, ARMR firstly models temporal information from medical records to obtain patient representations and builds a key-value memory network based on information from historical admissions. Then, ARMR carries out multi-hop reading on the memory network to recommend medications. Meanwhile, ARMR uses a GAN model to adversarially regulate the distribution of patient representations by matching the distribution to a desired Gaussian distribution to achieve DDI reduction. Comparative evaluations between ARMR and baselines show that ARMR outperforms all baselines in terms of medication recommendation, achieving DDI reduction regardless of numbers of DDI types being considered.