02.12.2019 | Ausgabe 4/2019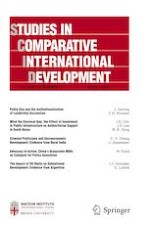 Advocacy in Action: China's Grassroots NGOs as Catalysts for Policy Innovation
Zeitschrift:
Autor:

May Farid
Wichtige Hinweise
Electronic supplementary material
Publisher's Note
Springer Nature remains neutral with regard to jurisdictional claims in published maps and institutional affiliations.
Abstract
How do small, grassroots NGOs influence a powerful authoritarian state and its policies? This paper presents data on instances of interaction between China's grassroots NGOs and party-state agencies through which NGOs are able to exert influence on policymaking and implementation by modeling innovations in action. The analysis begins by painting the backdrop against which policy influence occurs: a political context characterized by diminished bureaucratic capacity, policy discretion, and experimentation under hierarchy. It then presents the argument that collaboration between grassroots NGOs and local government agencies can act as a risk mitigation strategy for official innovation in a system of experimentation under hierarchy. Extensive longitudinal field research across six sub-national units shows convergence among grassroots NGOs on a conception of advocacy in action. This expanded conception of advocacy overcomes the dichotomy between advocacy and service delivery functions, and allows for observation of a fuller range of efforts that include 'obstructive' as well as 'instructive' advocacy. Globally, traditional channels of political participation are decreasing in availability and efficacy. This research shows how, as growing numbers of the populace organize to address social and environmental challenges through grassroots organizations, they open alternate channels of political participation, in turn refashioning state practice.