2019 | OriginalPaper | Buchkapitel
25. Aeolian Dune Fields in the Coasts of Asturias and Cantabria (Spain, Nw Iberian Peninsula)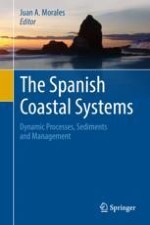 Erstes Kapitel lesen
Autoren: Germán Flor, Germán Flor-Blanco, Patricio Martínez Cedrún, Carmen Flores-Soriano, Cecilia Borghero
Abstract
Aeolian dune fields are relatively well represented along the cliff coast of Asturias and Cantabria (NW Iberian Peninsula) (Fig.
25.1
; Tables
25.1
and
25.2
). Siliciclastic sands are supplied by large rivers to their estuaries and coastal upwelling and nutrients from some estuaries contribute with the formation of carbonate sands, but inherited and currently generating bioclastic sands are important in several stretches; easterly winds produce upwelling in this coast and shelf mainly in spring and summer (Lavín et al. in The Sea 14, 24: 933–1001,
2004
). Most of the Cantabria and Asturias dune fields were formed since the mid-Holocene (Flandrian transgression) once the sea level fell and the prograding processes seaward were favored. It is essential to know the evolutionary patterns from this early stage to those that have occurred since the middle of the 20th century as a result of man's intervention through dredging of the estuaries to which they belong. All dune fields of Asturias and Cantabria have been suffered a natural recession due sea level rise and the continuous surge event, increasingly more often. Policy, laws and management must go hand in hand for try to preserve in the best possible way this type of habitats of great importance for the coast.