2013 | OriginalPaper | Buchkapitel
Aerosol Cloud-Mediated Radiative Forcing: Highly Uncertain and Opposite Effects from Shallow and Deep Clouds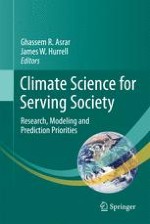 Erstes Kapitel lesen
Autoren: Daniel Rosenfeld, Robert Wood, Leo J. Donner, Steven C. Sherwood
Verlag: Springer Netherlands
Abstract
Aerosol cloud-mediated radiative forcing, commonly known as the aerosol indirect effect (AIE), dominates the uncertainty in our ability to quantify anthropogenic climate forcing and respectively the climate sensitivity. This uncertainty can be appreciated based on the state of our understanding as presented in this chapter.
Adding aerosols to low clouds generally causes negative radiative forcing by three main mechanisms: redistributing the same cloud water in larger number of smaller drops, adding more cloud water, and increasing the cloud cover. Aerosols affect these components sometimes in harmony but more often in opposite ways. These processes can be highly non-linear, especially in precipitating clouds in which added aerosol can inhibit rain. There is probably little overall sensitivity in most clouds but hyper sensitivity in some, where the processes become highly nonlinear with positive feedbacks, causing changes of cloud regimes in marine stratocumulus under anticyclones. This leads to a complicated and uneven AIE. Process models at high resolution (LES) have reached the stage that they can capture much of this complicated behavior of shallow clouds. The implementation of the processes of cloud aerosol interactions into GCMs is rudimentary due to severe computational limitations and the current state of cloud and aerosol parameterizations, but intense research efforts aimed at improving the realism of cloud-aerosol interaction in GCMs are underway.
Aerosols added to deep clouds generally produce an additional component of positive radiative forcing due to cloud top cooling, expanding, and detraining vapor to the upper troposphere and lower stratosphere. The level of scientific understanding of the AIE on deep clouds is even lower than for the shallow clouds, as mixed phase and ice processes play an important role. Respectively, the parameterization of these processes for GCMs is further away than for the low clouds.
Crucially, the AIE of both shallow and deep clouds must be considered for quantifying anthropogenic climate forcing and inferring climate sensitivity from observations.
While our objective is reducing the uncertainty, it appears that the recently acquired additional knowledge actually increased the uncertainty range of the AIE, as we learn of additional effects that should be quantified.