01.08.2013 | Invited Review | Ausgabe 8/2013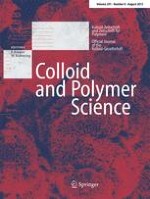 Ag/DNQ-novolac-based nanocomposite films for controllable UV lithography morphological patterning
Zeitschrift:
Autoren:

Jovita Pudlauskaitė, Virginija Jankauskaitė, Algirdas Lazauskas, Igoris Prosyčevas, Pranas Narmontas
Abstract
In this study, the detailed characterisation of silver (Ag) nanoparticles/polymer nanocomposite chemical structure and morphology of grating has been carried out. Scanning electron microscopy measurements show spherical shape of Ag nanoparticles (40–80 nm in diameter) prepared in chloroform by reduction of silver nitrate. In the positive photoresist based on 2-diazo-2
H
-naphthalen-1-one (DNQ)–novolac, Ag nanoparticles were deposited from organic colloidal solution. The content of nanoparticles in the polymer matrix was varied by increasing the concentration of Ag colloidal solution. Grating was formed by contact lithography. The quantification of Ag nanoparticles and chemical analysis of Ag/DNQ-novolac-based nanocomposite was performed by means of energy dispersive X-ray analyzer and SEM/EDS. In order to study the effect of Ag nanoparticles on the DNQ-novolac-based nanocomposite structure, investigations with Fourier transform infrared spectroscopy were conducted. Ag nanoparticles cause changes associated with substituent-sensitive out-of-plane C–H bending vibrations of aromatic ring. Ag/DNQ-novolac-based nanocomposite film surface morphology and grating topography imaging were performed using atomic force microscopy. Added Ag nanoparticles change the geometrical parameters of the gratings. The split of corrugations was achieved in Ag/DNQ-novolac-patterned films. Their morphology can be tailored by altering the content of Ag nanoparticles.