2015 | OriginalPaper | Buchkapitel
Age-Related Differences in a Usability Study Measuring Accuracy, Efficiency, and User Satisfaction in Using Smartphones for Census Enumeration: Fiction or Reality?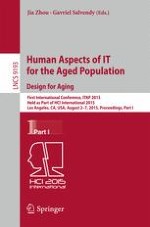 Erstes Kapitel lesen
Autoren: Erica Olmsted-Hawala, Temika Holland
Abstract
Age-related differences were investigated in a usability study of an application developed for U.S. Census Bureau enumerators to collect survey data and automate their time and expenses. Accuracy, efficiency and satisfaction measures were collected as participants used a smartphone to answer typical tasks. Usability flaws were also identified with the application. Results indicate that in general there were no differences with task accuracy and efficiency when comparing all tasks, however when looking at individual tasks, the task that had the most usability flaws also revealed age-related differences for accuracy and efficiency – that is older adults were less accurate and took longer to complete. Surprisingly, there were age-related differences with the user satisfaction of the application such that older adults were less satisfied with the application than younger adults. Tying age-related differences to usability flaws highlights the importance of designing optimal applications for all users.