10.09.2015 | Original Paper | Ausgabe 2/2016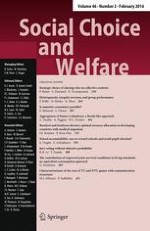 Aggregation of binary evaluations: a Borda-like approach
Zeitschrift:
Autoren:

Conal Duddy, Ashley Piggins, William S. Zwicker
Wichtige Hinweise
Financial support from the Spanish Ministry of Economy and Competitiveness through MEC/FEDER grant ECO2013-44483-P, and the Irish Research Council co-funding from the European Commission, is gratefully acknowledged. Conal Duddy conducted this research while visiting the Centre for Philosophy of Natural and Social Science at the London School of Economics. He is grateful for their hospitality. Thanks to Felix Brandt, Franz Dietrich, Nicolas Houy, Vincent Merlin, Marcus Pivato and the participants at PET 13 for their helpful comments. This joint project began after we attended a workshop on New Developments in Judgement Aggregation and Voting Theory, held in Freudenstadt, September 2011. The workshop was organised by Clemens Puppe and Klaus Nehring. We are extremely grateful to them for organizing this workshop, and for providing financial support. Finally, we would like to thank the Managing Editor, the Associate Editor and a referee, for their helpful comments on an earlier version of this paper.
Abstract
We characterize a rule for aggregating binary evaluations—equivalently, dichotomous weak orders—similar in spirit to the Borda rule from the preference aggregation literature. The binary evaluation framework was introduced as a general approach to aggregation by Wilson (J Econ Theory 10:89–99,
1975
). In this setting we characterize the "mean rule," which we derive from properties similar to those Young (J Econ Theory 9:43–52,
1974
) used in his characterization of the Borda rule. Complementing our axiomatic approach is a derivation of the mean rule using vector decomposition methods that have their origins in Zwicker (Math Soc Sci 22:187–227,
1991
). Additional normative appeal is provided by a form of tension minimization that characterizes the mean rule and suggests contexts wherein its application may be appropriate. Finally, we derive the mean rule from an approach to judgment aggregation recently proposed by Dietrich (Soc Choice Welf 42:873–911,
2014
).