01.08.2014 | Original Paper | Ausgabe 8/2014 Open Access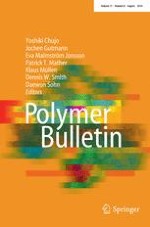 Aggregation of polylactide with carboxyl groups at one chain end in the presence of metal cations
Zeitschrift:
Autoren:

Melania Bednarek, Malgorzata Basko, Tadeusz Biedroń, Przemysław Kubisa, Mirosław Pluta
Abstract
Polylactides with one or more carboxyl groups at one chain end were synthesized by cationic polymerization according to activated monomer mechanism and by application of "thiol-yne" click chemistry for subsequent functionalization. End groups of such obtained polylactides were converted into ionic groups by neutralization of polymer solutions with metal oxides, mainly calcium oxide, and the aggregation of individual stereoisomers as well as that of the mixture of poly(
l
-lactide) (PLLA) and poly(
d
-lactide) (PDLA) was investigated. The extent and progress of the aggregation was followed by viscosity measurements, and aggregated polymers in the solid state were examined by SEM and DSC. Solution viscosity increase was observed upon the aggregation of individual PLA stereoisomers, whereas PLA stereocomplex precipitation occurred in the case of the aggregation of PLLA/PDLA/metal oxide mixture.