04.06.2018 | Ausgabe 8/2018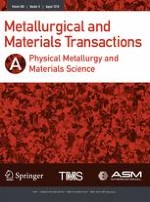 Aging-Induced Transformations of Maraging-400 Alloys
Zeitschrift:
Autoren:

T. J. B. Alves, G. C. S. Nunes, L. F. S. Tupan, P. W. C. Sarvezuk, F. F. Ivashita, C. A. S. de Oliveira, A. Paesano Jr.
Wichtige Hinweise
Manuscript submitted November 21, 2017.
Abstract
Solubilized maraging-400 alloys were aged at 480 °C, 580 °C, and 650 °C, for 3, 6, and 12 hours and characterized by X-ray diffraction (Rietveld refinement), Mössbauer spectroscopy, and microhardness tests. The results revealed that the aging treatments induced an atomic rearrangement in the martensite phase, involving a change in the composition and lattice parameters, reversion of austenite, and, in some samples, the formation of the
μ
phase. The amounts of reverted and precipitated phases were dependent on the aging time and temperature. The tetragonal distortion from cubic symmetry, usually presented by martensite in solution-annealed maraging steels, was not eliminated after aging. The results obtained for these maraging-400 alloys are compared with those obtained for maraging-350 steel samples.