2018 | OriginalPaper | Buchkapitel Open Access
3. Agricultural Markets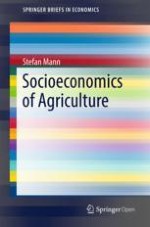 Autor: Stefan Mann
Since the times of Adam Smith, ten thousands of economists have devoted most of their efforts to understanding markets. The resulting narrative they have helped develop impressively explains a large number of real-world phenomena.
The most basic version of this narrative goes as follows: Two selfish individuals find that they can increase their utility by trading with each other. They engage in the trade on a fully informed base and end up happier than they were before.
Economists also acknowledged that life can be somewhat more complex than that and have developed their models accordingly. For example, they modelled cases where full information was not available to one or both of the market partners. All these extensions of the basic model have led to a large body of thought about exchanges. Millions of pages have been filled to adapt the two selfish individuals to the linkages and insecurities in the real world.
In this chapter, we will examine three market-related fields of decision-making in the realms of agriculture and rural areas. We start by coming back to the issue of occupational choice, this time mainly from a market perspective. A second section will then focus on the dynamics of settling or depopulating rural areas from a market perspective. Finally, we will look at choices on the food market.