01.12.2011 | Symposium: Austenite Formation and Decomposition IV | Ausgabe 12/2011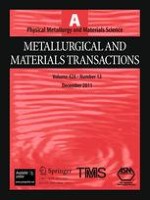 ALEMI: A Ten-Year History of Discussions of Alloying-Element Interactions with Migrating Interfaces
Zeitschrift:
Autoren:

Gary Purdy, John Ågren, Annika Borgenstam, Yves Bréchet, Masato Enomoto, Tadashi Furuhara, Ernst Gamsjager, Mohamed Gouné, Mats Hillert, Christopher Hutchinson, Matthias Militzer, Hatem Zurob
Wichtige Hinweise
Manuscript submitted November 3, 2010.
Abstract
ALEMI is concerned with the interactions between Alloying Elements and Migrating Interfaces. A first meeting was held in conjunction with the 2000 TMS Fall Meeting in St. Louis, MO. About 22 attendees endorsed the principles contained in the invitation, which envisaged a more collaborative approach to the study of alloying element interactions with transformation interfaces, especially in alloy steels. The meetings were intended to be informal workshops emphasizing the sharing of ideas and plans for research. The development of a shared stock of alloys for research was planned, as well as the publication of summaries of discussions in an open, preferably archival, forum. Eight further meetings were held, often in conjunction with major conferences. An approximate equilibrium developed between discussions of theoretical matters and experimental results and methods. A remarkable number of those who attended the first meeting in St. Louis continued to participate. Research ideas were put forward, issues debated, collaborations fostered, and the science of transformation interfaces advanced.