01.09.2011 | Original Article | Ausgabe 3/2011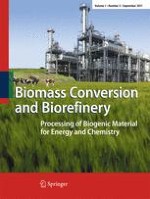 Algae production for energy and foddering
Zeitschrift:
Autoren:

Attila Bai, Péter Jobbágy, Emília Durkó
Abstract
This study not only presents the results of our own experiments in alga production, but also shows the expected economic results of the various uses of algae (animal feed, direct burning, pelleting, bio-diesel production), the technical characteristics of a new pelleting method based on literature, and also our own recommended alga production technology. In our opinion, the most promising alternative could be the production of alga species with high levels of oil content, which are suitable for utilization as by-products for animal feed and in the production of bio-diesel, as well as for use in waste water management and as a flue gas additive. Based on the data from our laboratory experiments, of the four species we analyzed,
Chlorella vulgaris
should be considered the most promising species for use in large-scale experiments. Taking expenses into account, our results demonstrate that the use of algae for burning technology purposes results in a significant loss under the current economic conditions; however, the utilization of algae for feeding and bio-diesel purposes—in spite of their innovative nature—is nearing the level needed for competitiveness. By using the alga production technology recommended by us and described in the present study in detail, with an investment of 545 to 727 thousand EUR/ha, this technology should be able to achieve approximately 0–29 thousand EUR/ha net income, depending on size. More favorable values emerge in the case of the 1-ha (larger) size, thanks to the significant savings on fixed costs (depreciation and personnel costs).