01.12.2016 | Original Article | Ausgabe 24/2016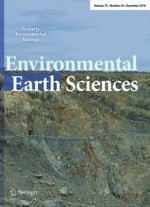 Algal activity of dissolved organic nitrogen (DON) in the sediments of Lake Taihu, Eastern China
Zeitschrift:
Autoren:

Tianen Zhai, Jingtian Zhang, Shouliang Huo, Beidou Xi, Mingzhou Su, Chunzi Ma, Zhuoshi He, Jing Su
Abstract
Understanding the contents and reactivity of dissolved organic nitrogen (DON) is important for illustrating its productivity contribution in aquatic ecosystem. The primary objective of this study was to investigate the characteristics and algal activity of DON in the sediments of Lake Taihu. A series of experiments were carried out to evaluate the algal bioavailability of DON fractions in the sediments of Lake Taihu, Eastern China. DON extracted in the lake sediments was separated into hydrophilic and hydrophobic forms by DAX-8 resin, and ammonia nitrogen in raw sample and hydrophilic fraction was removed by cation exchange resin. 77.42–109.18% DON recovery rates were obtained after DON fractionation at ZSW and DPG stations. The hydrophilic DON was the main DON form contributing 62.74–76.33% of total DON concentrations.
Selenastrum capricornutum
was incubated for 15 days with different nitrogen forms (raw sample, hydrophilic and hydrophobic fractions). Approximately 33.69–79.23% DON of the three fractions was available for algal uptake in the incubation. The order of DON bioavailability was ranked as follows: raw sample > hydrophilic fraction > hydrophobic fraction, indicating that hydrophilic fractions and raw samples exhibited higher DON bioavailability for algae. Parallel factor analysis resulted in identification of tryptophan-like proteins, tyrosine-like proteins and humic acid (HA)-like substances during the incubation periods. During the growth phase, the relative fluorescent intensities of tryptophan-like proteins, tyrosine-like substance and HA-like substance accumulated greatly with 24.84–26.38, 27.82–62.73 and 0–28.92%, respectively.