22.07.2017 | Ausgabe 2/2018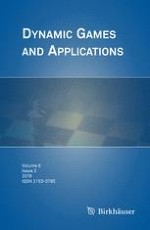 Algebraic Formulation and Nash Equilibrium of Competitive Diffusion Games
Zeitschrift:
Autoren:

Haitao Li, Xueying Ding, Qiqi Yang, Yingrui Zhou
Wichtige Hinweise
The research was supported by the National Natural Science Foundation of China under Grants 61374065 and 61503225, the Natural Science Foundation of Shandong Province under Grant ZR2015FQ003, and the Natural Science Fund for Distinguished Young Scholars of Shandong Province under Grant JQ201613.
Abstract
This paper investigates the algebraic formulation and Nash equilibrium of competitive diffusion games by using semi-tensor product method, and gives some new results. Firstly, an algebraic formulation of competitive diffusion games is established via the semi-tensor product of matrices, based on which all the fixed points (the end of the diffusion process) are obtained. Secondly, using the algebraic formulation, a necessary and sufficient condition is presented for the verification of pure-strategy Nash equilibrium. Finally, an illustrative example is given to demonstrate the effectiveness of the obtained new results.