28.09.2019 | Methodologies and Application | Ausgabe 10/2020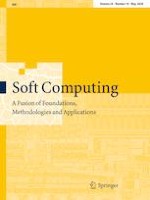 Algorithm for solving group decision-making problems based on the similarity measures under type 2 intuitionistic fuzzy sets environment
Zeitschrift:
Autoren:

Harish Garg, Sukhveer Singh
Wichtige Hinweise
Publisher's Note
Springer Nature remains neutral with regard to jurisdictional claims in published maps and institutional affiliations.
Abstract
Type 2 intuitionistic fuzzy set (T2IFS) is one of the most important concepts to describe fuzzy information by providing an additional degree of freedom to the decision maker to decide the decision-making process. The fundamental superiority of the T2IFS, over the intuitionistic fuzzy set, has been its ability to capture the degrees of membership of relevant membership values, where the uncertainty is handled more accurately, and hence accommodate more uncertainties. Keeping these features in mind, this paper explores the theory of T2IFS by defining some families of the similarity measures to measure the degree of similarity between the two or more T2IFSs. For this, the characteristic of each object is measured in terms of degrees of primary membership and non-membership, secondary membership and non-membership and the variance margin function between them. Based on that, several formulations of the similarities measures are defined and their properties are investigated . Also, some fundamental relation between the proposed measures is stated. Further, based on the similarity measure, a group decision-making approach is explored to rank the alternatives. An illustrative example is provided to demonstrate the approach, and the comparative analysis with some of the existing measures is performed to explore the results.