2020 | OriginalPaper | Buchkapitel
8. All Vibration Is a Summation of Mode Shapes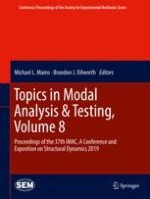 Erstes Kapitel lesen
Autoren: Brian Schwarz, Patrick McHargue, Jason Tyler, Mark Richardson
Abstract
This paper expands on the ideas presented in two previous papers (Schwarz et al., Curve fitting analytical mode shapes to experimental data, IMAC XXXIV, 2014; Schwarz and Richardson, Linear superposition and modal participation, IMAC XXXII, 2014). Here, we again show with examples how all vibration, whether it is represented in the form of time waveforms, frequency spectra, or ODS's, can also be represented as a summation of mode shapes. The title of this paper is actually a universal law which is used for all modal analysis,
Fundamental Law of Modal Analysis
(
FLMA
): All vibration is a
summation
of mode shapes.
The modal parameters of a structure can be obtained in two ways,
1.
Experimental Modal Analysis
(
EMA
): Extracting EMA mode shapes by curve fitting a set of experimentally derived time waveforms or frequency spectra that characterize the structural dynamics
2.
Finite Element Analysis
(
FEA
): Solving for the FEA mode shapes from a set of differential equations that characterize the structural dynamics
In this paper, it will be shown how the benefits of analytical FEA mode shapes can be combined with experimental data to yield more robust dynamic models (Richardson and Richardson, Using photo modeling to obtain the modes of a structure, Proceedings of the International Modal Analysis Conference, 2008; Richardson, Sound Vib Mag, 2005). FEA mode shapes will be used to "
decompose
" and then "
expand
" experimental data to include DOFs that cannot or were not determined experimentally (Schwarz et al., Using mode shapes for real time ODS animation, IMAC XXXIII, 2015).
A
unique advantage
of this approach is that
only mode shapes
themselves are required. Modal frequency and damping are not required. Another
unique advantage
is that mode shapes from an FEA model
with free-free boundary conditions
and
no damping
can be used.
It usually requires a great deal of skill and effort to modify an FEA model and its boundary conditions so that its modal frequencies and mode shapes accurately match EMA modal frequencies and mode shapes. In addition, adding accurate damping to an FEA model is usually so difficult that damping is left out of the model altogether. The approach presented here circumvents both of these difficulties.