01.01.2015 | Ausgabe 1/2015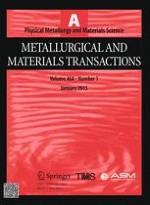 Alternate Anodes for the Electrolytic Reduction of UO2
Zeitschrift:
Autoren:

Augustus Merwin, Dev Chidambaram
Wichtige Hinweise
Manuscript submitted May 28, 2014.
Abstract
The electrolytic reduction process of UO2 employs a platinum anode and a stainless steel cathode in molten LiCl-LiO2 maintained at 973 K (700 °C). The degradation of platinum under the severely oxidizing conditions encountered during the process is an issue of concern. In this study, Inconel 600 and 718, stainless steel alloy 316, tungsten, nickel, molybdenum, and titanium, were investigated though electrochemical polarization techniques, electron microscopy, Raman spectroscopy, and X-ray photoelectron spectroscopy to serve as potential anode materials. Of the various materials investigated, only tungsten exhibited sufficient stability at the required potential in the molten electrolyte. Tungsten anodes were further studied in molten LiCl-LiO2 electrolyte containing 2, 4, and 6 wt pct of Li2O. In LiCl-2 wt pct Li2O tungsten was found to be sufficiently stable to both oxidation and microstructural changes and the stability is attributed to the formation of a lithium-intercalated tungsten oxide surface film. Increase in the concentration of Li2O was found to lead to accelerated corrosion of the anode, in conjunction with the formation of a peroxotungstate oxide film.