29.12.2016 | Ausgabe 3/2017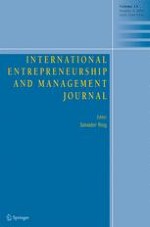 Alternative growth patterns of university spin-offs: why so many remain small?
Autoren:

Nora Hesse, Rolf Sternberg
Abstract
The aim of this paper is to provide explanations for alternative growth patterns of university spin-offs using qualitative research methods. By matching the willingness of academic entrepreneurs to the ability of university spin-offs to grow, four basic types of university spin-offs are derived: ambitious, unwilling, saturated and impeded university spin-offs. By combining theoretical considerations from a specific concept of growth phases and empirical regularities from 68 university spin-offs we construct eight different subtypes of university spin-offs. The results show that the majority of university spin-offs either lacks entrepreneurial growth intentions or is impeded by reasons caused by personal characteristics of the academic entrepreneur, the university spin-off or the external environment. Some subtypes like life stylists, entrepreneurial academics and late bloomers face problems or share attitudes that are very specific in the context of university spin-offs. This paper contributes to the literature on university spin-off growth by providing an in-depth analysis of the underlying reasons for the founders' willingness and ability to grow or not to grow. This study also reflects the heterogeneity of university spin-off growth and considers the evolutionary perspective. Growth is not only understood as a consequence of an economic process but also a personal and social process. In this way, this study augments the existing concepts of growth phases.