2019 | OriginalPaper | Buchkapitel
Alternative Learning Experiences: An Innovative Project Stimulating Creative Faculty of Humanities Students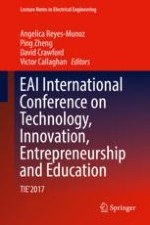 Erstes Kapitel lesen
Autor: Rabeya Binte Habib
Abstract
What and how can teachers do the best to facilitate successful leaner involvement in learning? Perhaps, by giving them the charge of their own learning. This case study, thus, highlights an initiative to incorporate students in innovative practices facilitating learning beyond classroom through active learning. Active learning is said to have significant impact on graduate's workplace skills and positive self-perceptions, too (Goss and Sonnemann, Engaging students: creating classrooms that improve learning.
https://​grattan.​edu.​au/​wp-content/​uploads/​2017/​02/​Engaging-students-creating-classrooms-that-improve-learning.​pdf
, 2017). The research focus, here, is to equip a group of responsible soon-to-be and out-to-the-job-market graduates with inventiveness, communicative skills, confidence, teamwork, time management, and also a sense of ownership. Many of which have been identified by (Wagner, The seven survival skills for college, career, and citizenship. Adviser'c Corner in The Global Achievement Gap: Why Even Our Best Schools Don't Teach The New Survival Skills Our Children Need—and What We Can Do About It. Basic Books, New York, 2008) Wagner in 2008 at Harvard's Innovation Lab as Seven Survival Employability Skills. Findings of this study, undertaking task-based learning (TBL) framework (Ellis, The Methodology of Task-Based Teaching, 2002; Ellis, Task-Based Language Learning and Teaching. Oxford University Press, Oxford, 2003), were obtained through alternative data instruments in the forms of info-graphics and screen shots of responses from participants' notes. Findings suggest varied observations favouring their experience of paradigm shift through mixed feelings.