01.08.2016 | Original Research | Ausgabe 2/2016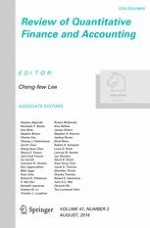 Alternative methods to derive option pricing models: review and comparison
Zeitschrift:
Autoren:

Cheng-Few Lee, Yibing Chen, John Lee
Abstract
The main purposes of this paper are: (1) to review three alternative methods for deriving option pricing models (OPMs), (2) to discuss the relationship between binomial OPM and Black–Scholes OPM, (3) to compare Cox et al. method and Rendleman and Bartter method for deriving Black–Scholes OPM, (4) to discuss lognormal distribution method to derive Black–Scholes OPM, and (5) to show how the Black–Scholes model can be derived by stochastic calculus. This paper shows that the main methodologies used to derive the Black–Scholes model are: binomial distribution, lognormal distribution, and differential and integral calculus. If we assume risk neutrality, then we don't need stochastic calculus to derive the Black–Scholes model. However, the stochastic calculus approach for deriving the Black–Scholes model is still presented in Sect.
6
. In sum, this paper can help statisticians and mathematicians understand how alternative methods can be used to derive the Black–Scholes option model.