01.06.2015 | Ausgabe 6/2015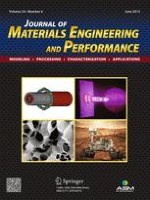 Aluminum-Based Cast In Situ Composites: A Review
Zeitschrift:
Autoren:

S. L. Pramod, Srinivasa R. Bakshi, B. S. Murty
Wichtige Hinweise
This article is an invited paper selected from presentations at "Innovation in Processing of Light Metals for Transportation Industries: A Symposium in Honor of C. Ravi Ravindran," held during MS&T'14, October 12-16, 2014, in Pittsburgh, Pa., and has been expanded from the original presentation.
Abstract
In situ composites are a class of composite materials in which the reinforcement is formed within the matrix by reaction during the processing. In situ method of composite synthesis has been widely followed by researchers because of several advantages over conventional stir casting such as fine particle size, clean interface, and good wettability of the reinforcement with the matrix and homogeneous distribution of the reinforcement compared to other processes. Besides this, in situ processing of composites by casting route is also economical and amenable for large scale production as compared to other methods such as powder metallurgy and spray forming. Commonly used reinforcements for Al and its alloys which can be produced in situ are Al2O3, AlN, TiB2, TiC, ZrB2, and Mg2Si. The aim of this paper is to review the current research and development in aluminum-based in situ composites by casting route.