2019 | OriginalPaper | Buchkapitel
Am I Better in VR with a Real Audience?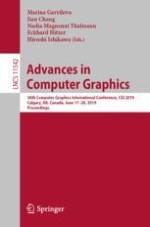 Erstes Kapitel lesen
Autoren: Romain Terrier, Nicolas Martin, Jérémy Lacoche, Valérie Gouranton, Bruno Arnaldi
Abstract
We present an experimental study using virtual reality (VR) to investigate the effects of a real audience on social inhibition. The study compares a multi-user application, locally or remotely shared. The application engages one user and a real audience (i.e., local or remote conditions) and a control condition where the user is alone (i.e., alone condition). The differences have been explored by analyzing the objective performance (i.e., type and answering time) of users when performing a categorization of numbers task in VR. Moreover, the subjective feelings and perceptions (i.e., perceptions of others, stress, cognitive workload, presence) of each user have been compared in relation to the location of the real audience. The results showed that in the presence of a real audience (in the local and remote conditions), user performance is affected by social inhibitions. Furthermore, users are even more influenced when the audience does not share the same room, despite others are less perceived.