2018 | OriginalPaper | Buchkapitel
7. Amateur Publications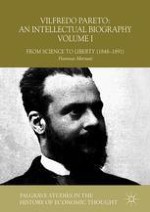 Erstes Kapitel lesen
Autor: Fiorenzo Mornati
Abstract
This chapter deals with the amateur but often incisive newspaper and review articles he produced in the 20 years leading up to his departure for Lausanne, often in response to current political debates which he followed with lively interest. Thus, in Sect.
7.1
, we examine his response, emerging from his professional experience as well as from his ideological outlook, to the government's proposal in the mid-1870s to nationalise the railways. Pareto was not in favour of bureaucratic management of the lines, making use of arguments which he raised into a kind of generalised theory regarding the business incapacity of the state (Sect.
7.2
). Thereafter we pass on to an account of his economic analysis of measures proposed in the 1880s in support of the working population (Sect.
7.3
), together with a summary of his thoughts at the time regarding taxation and public expenditure (Sect.
7.4
) and birth control (Sect.
7.5
), Malthusianism remaining an ideological position he retained throughout his life. The conceptual principles underlying his opposition to the policy of customs protectionism adopted by Italy in 1887 (Sect.
7.6
), together with Italy's abolition of the fiat money in 1883 (Sect.
7.7
), will then be explored. Lastly, a systematic summary is given of his early, rudimentary reflections on socialism, on economic theory, on sociology and on political science (Sects.
7.8
,
7.9
,
7.10
and
7.11
, respectively).