2020 | OriginalPaper | Buchkapitel
2.
American Legion v. American Humanist

on Religious Monuments Under the First Amendment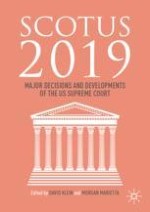 Erstes Kapitel lesen
Autoren: Ronald Kahn, Gerard D'Emilio
Abstract
This case is a First Amendment challenge to a large cross on public land next to a major highway near Washington, DC. The controversy led the Court to reconsider the standards for recognizing a violation of the establishment of religion: on one side, the size or conspicuousness of the display the appearance of state endorsement, and the entanglement of state funding, and on the other side, the secular purpose and historical significance of the monument. The American Humanist Association asked the Court to mandate the removal of the monument, while the American Legion asked the Court to replace the more complex and subjective
Lemon
test with a simpler standard grounded in the presence or absence of state coercion.