29.05.2018 | Energy materials | Ausgabe 17/2018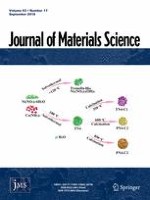 Amorphous molybdenum sulphide @ nanoporous gold as catalyst for hydrogen evolution reaction in acidic environment
Zeitschrift:
Autoren:

Federico Scaglione, Yanpeng Xue, Federica Celegato, Paola Rizzi, Livio Battezzati
Wichtige Hinweise
Electronic supplementary material
Abstract
A novel catalyst for water splitting has been prepared by cyclic voltammetry (CV) deposition of amorphous MoS2 on nanoporous gold (NPG) obtained by electrochemical de-alloying a metallic glass precursor, Au40Cu28Ag7Pd5Si20 (at.%). As a function of number of CV cycles, Au ligaments are progressively encapsulated by a thin layer of amorphous MoS2 catalyst for hydrogen evolution. NPG provides a good substrate for deposition having excellent properties of handability and mechanical resistance in addition to catalytic activity, high conductivity and high surface area. Low onset potential, low Tafel slope and interesting values of exchange current density were obtained in linear sweep voltammetry of deposited samples. The synergistic behaviour of the multi-component material provides a highly efficient catalyst for hydrogen making of these samples a good candidate in some instances comparable to the conventional Pt catalyst for hydrogen evolution in acidic environment.