2007 | OriginalPaper | Buchkapitel
25. Amorphous Semiconductors: Structure, Optical, and Electrical Properties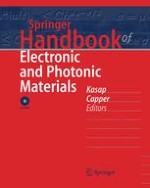 Erstes Kapitel lesen
Autoren: Ph.D. Kazuo Morigaki, Dr. Chisato Ogihara
Verlag: Springer US
Abstract
This chapter is devoted to a survey of the structural, optical and electrical properties of amorphous semiconductors on the basis of their fundamental understanding. These properties are important for various types of applications using amorphous semiconductors.
First, we review general aspects of the electronic states and defects in amorphous semiconductors, i.e., a-Si:H and related materials, and chalcogenide glasses, and their structural, optical and electrical properties.
Further, we survey the two types of phenomena associated with amorphous structure, i.e., light-induced phenomena, and quantum phenomena associated with nanosized amorphous structure. The former are important from the viewpoint of amorphous-silicon solar cells. The latter phenomena promise novel applications of amorphous semiconductors from the viewpoint of nanotechnology.