01.11.2020 | Ausgabe 11/2020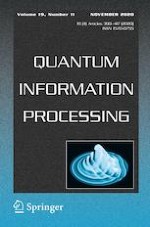 An 8.4 Gbps real-time quantum random number generator based on quantum phase fluctuation
Zeitschrift:
Autoren:

Wen Lei, Zhihuang Xie, Yuzhong Li, Junbin Fang, Weiqiang Shen
Wichtige Hinweise
This work was partially supported by National Key Research and Development Project (No. 2018YFB1801900), National Natural Science Foundation of China (No. 61771222), The Fundamental Research Funds for the Central Universities (No. 21620439), Science & Technology Project of Shenzhen (No. JCYJ20170815145900474) and Peng Cheng Laboratory Project of Guangdong Province (No. PCL2018KP004).
Publisher's Note
Springer Nature remains neutral with regard to jurisdictional claims in published maps and institutional affiliations.
Abstract
Based on the fundamental uncertainty of quantum mechanics, quantum random number generators can generate truly random number which is critically important for many applications, such as information security. However, while the generation rate of offline quantum random number generators could be up to tens of Gbps or more, that of real-time quantum random number generators is only 3.2 Gbps due to the relatively low post-processing speed, and the application of real-time quantum random number generators is limited. We propose an efficient and robust high-speed real-time quantum random number generation scheme based on quantum phase fluctuation of a distributed feedback laser, with improved post-processing techniques. Firstly, the quantum signal-to-noise ratio is increased by analyzing and quantifying quantum noise. Secondly, a time-interleaved analog-to-digital converter scheme is designed to achieve a real-time sampling rate of 8 GSa/s. Finally, the random bits are extracted using the minimum entropy estimation and Toeplitz-hashing randomness extraction. Experimental results show that the proposed scheme could achieves a real-time generation rate up to 8.4 Gbps, with an estimated offline generation rate of 82.32 Gbps.