01.07.2014 | Ausgabe 8/2014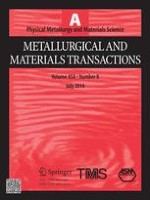 An
A Priori

Hot-Tearing Indicator Applied to Die-Cast Magnesium-Rare Earth Alloys
Zeitschrift:
Autoren:

Mark A. Easton, Mark A. Gibson, Suming Zhu, Trevor B. Abbott
Wichtige Hinweise
Manuscript submitted June 10, 2013.
Abstract
Hot-tearing susceptibility is an important consideration for alloy design. Based on a review of previous research, an
a priori
indicator for the prediction of an alloy's hot-tearing susceptibility is proposed in this article and is applied to a range of magnesium-rare earth (RE)-based alloys. The indicator involves taking the integral over the solid fraction/temperature curve between the temperature when feeding becomes restricted (coherency) and that when a three-dimension network of solid is formed (coalescence). The hot-tearing propensity of Mg-RE alloys is found to vary greatly depending on which RE is primarily used, due to the difference in the solidification range. Mg-Nd alloys are the most susceptible to hot tearing, followed by Mg-Ce-based alloys, while Mg-La alloys show almost no hot tearing. The proposed indicator can be well applied to hot-tearing propensity of the Mg-RE alloys. It is expected that the indicator could be used as an estimation of the relative hot-tearing propensity in other alloy systems as well.