15.09.2016 | Foundations | Ausgabe 21/2017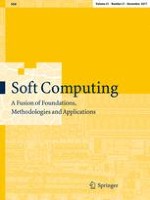 An ant-based QoS-aware routing protocol for heterogeneous wireless sensor networks
Zeitschrift:
Autoren:

Sanjay K. Malik, Mayank Dave, Sanjay K. Dhurandher, Isaac Woungang, Leonard Barolli
Wichtige Hinweise
Communicated by A. Di Nola.
Abstract
Most of the existing routing protocols for wireless sensor networks consider homogeneous nodes wherein all sensor nodes have the same sensing, communication and computation capabilities. However, recent advances in multimedia technology have led to the availability of a wide range of sensors with widely varying capabilities. The introduction of multimedia sensors has presented additional challenges such as requirement of application-specific quality of service (QoS), high bandwidth and low delay. This paper presents an enhanced ant-based QoS-aware routing protocol for heterogeneous wireless sensor networks (EAQHSeN). It is a differentiated service-based QoS routing protocol for heterogeneous wireless sensor networks with multimedia and scalar nodes. We have used bio-inspired routing heuristics, and the key feature of the protocol is its ability to meet diverse QoS requirements claimed by heterogeneous traffic generated by the nodes. The routing decision is taken independently for control traffic, scalar traffic and multimedia traffic, thus maximizing the network performance and utilization. Simulation results show that the proposed EAQHSeN protocol performs better than the ad hoc on-demand distance vector (AODV) routing protocol and energy-efficient ant-based routing (EEABR) protocol. The average percentage improvement in minimum residual energy by EAQHSeN over EEABR is approximately 4 % which is an indication of extended lifetime.