01.08.2016 | Thematic Issue | Ausgabe 15/2016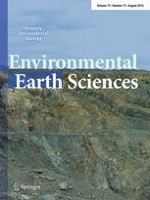 An approach for simulating the THMC process in single novaculite fracture using EPCA
Zeitschrift:
Autoren:

Peng-Zhi Pan, Xia-Ting Feng, Hong Zheng, Alexander Bond
Wichtige Hinweise
This article is part of a Topical Collection in Environmental Earth Sciences on "DECOVALEX 2015", guest edited by Jens T Birkholzer, Alexander E Bond, John A Hudson, Lanru Jing, Hua Shao and Olaf Kolditz.
Abstract
An approach for simulating thermal, hydraulic, mechanical and chemical (THMC) coupled processes in single rock fractures has been developed under the framework of a self-developed numerical method, i.e., an elasto-plastic cellular automaton. The balance equations of multi-physics problems to describe the THMC process in single rock fracture are solved by using cellular automaton technique on space scale and finite difference method on time scale, respectively. Using the concept of cellular automaton, a single rock fracture surface is discretized into a system composed of cell elements. Different apertures, i.e., 0 for contact and nonzero for void, are assigned to each cell element based on the fracture surface topography. The fluid flow, stress-dependent chemical reaction and solute transport are simulated by using a cellular automaton updating rule, in which only local cell balance equation is considered. The contribution of cell elements in contact to cell's transmissivity and convection can be ignored conveniently. The Lagrangian method is used to simulate the particle transport. Special treatment for particle transport to outer boundaries and internal boundaries is adopted. As a result, the local behaviors, such as the formation of local contact, dead ends in the fracture and the local aperture change, are conveniently updated dynamically. The approach is used to simulate the coupled THMC process in a single novaculite fracture. The behaviors of pressure dissolution caused by effective stress, free-face dissolution/precipitation, thermal-dependent fluid flow and ion transport are well reproduced by using the developed approach, subject to parameter calibration. The robustness of the general approach to such complex problems is demonstrated by comparing with experimental data.