31.08.2017 | Ausgabe 11/2017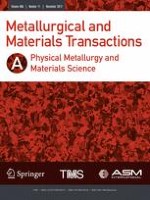 An Atom Probe Study of κ-carbide Precipitation in Austenitic Lightweight Steel and the Effect of Phosphorus
Zeitschrift:
Autoren:

L. N. Bartlett, D. C. Van Aken, J. Medvedeva, D. Isheim, N. Medvedeva, K. Song
Wichtige Hinweise
Manuscript submitted July 3, 2013.
Abstract
The influence of phosphorus on κ-carbide precipitation and alloy partitioning in an austenitic Fe-30Mn-9Al-1Si-0.9C-0.5Mo cast steel was studied utilizing a combination of transmission electron microscopy, 3D atom probe tomography, X-ray diffraction, and first-principles atomistic modeling. Increasing the amount of phosphorus from 0.006 to 0.043 wt pct P increased the kinetics of the initial ordering reaction. Specimens from the high-phosphorus steel showed some degree of short-range ordering of Fe-Al-C that took place during the quench. It was shown that phosphorus increases both the size and volume fraction of κ-carbide during aging. However, the distribution of phosphorus appears to be homogeneous, and thus long-range diffusion of phosphorus was not responsible for the observed increase in hardening. It is shown that phosphorus encourages the initial short-range ordering into the E21 structure of κ-carbide and also accelerates spinodal decomposition associated with carbon and aluminum diffusions.