2017 | OriginalPaper | Buchkapitel
An Efficient Implementation of the Algorithm by Lukáš et al. on Hadoop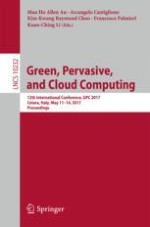 Erstes Kapitel lesen
Autoren: Giuseppe Cattaneo, Umberto Ferraro Petrillo, Michele Nappi, Fabio Narducci, Gianluca Roscigno
Abstract
Apache Hadoop offers the possibility of coding full-fledged distributed applications with very low programming efforts. However, the resulting implementations may suffer from some performance bottlenecks that nullify the potential of a distributed system. An engineering methodology based on the implementation of smart optimizations driven by a careful profiling activity may lead to a much better experimental performance as shown in this paper.
In particular, we take as a case study the algorithm by Lukáš
et al.
used to solve the Source Camera Identification problem (i.e., recognizing the camera used for acquiring a given digital image). A first implementation has been obtained, with little effort, using the default facilities available with Hadoop. A deep profiling allowed us to pinpoint some serious performance issues affecting the initial steps of the algorithm and related to a bad usage of the cluster resources. Optimizations were then developed and their effects were measured by accurate experimentation. The improved implementation is able to optimize the usage of the underlying cluster resources as well as of the Hadoop framework, thus resulting in a much better performance than the original naive implementation.