08.05.2018 | Original Paper | Ausgabe 4/2018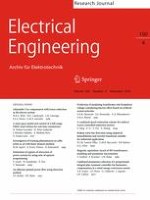 An efficient optimal power flow using bisection method
Zeitschrift:
Autoren:

S. Surender Reddy, P. R. Bijwe
Wichtige Hinweise
Publisher's Note
Springer Nature remains neutral with regard to jurisdictional claims in published maps and institutional affiliations.
Abstract
This paper presents an efficient approach using the bisection method for the solution of large-scale optimal power flow (OPF) problem. This method is proposed to overcome the major drawbacks of conventional/classical optimization techniques and the meta-heuristic techniques for solving the OPF problems. The conventional optimization techniques solve the OPF problem with less computational time, but they are not suitable for solving the problems with nonlinear/nonconvex and discrete variables. The evolutionary optimization techniques handle the nonconvex and discrete variables efficiently, but they demand high computational times. Therefore, to overcome the drawbacks of both conventional and evolutionary techniques, this paper proposes an efficient approach using the bisection method. In the bisection method, initially a generation schedule is determined, having an objective function value midway between its lower and upper bounds. Then, a load flow is performed for this solution to check the feasibility. If it is feasible, then the optimum solution lies between the midpoint and the lower bound. If it is infeasible, then it is between the midpoint and the higher bound. This concept is repeated until the optimum solution is found. Simulation results on two test systems (IEEE 30 bus and practical Indian 75 bus) are presented, and they are compared with the results of other competitive global approaches presented in the literature. The results show that the proposed approach can converge to the optimum solution and obtains the solution with high accuracy and least computational time.