01.06.2015 | Ausgabe 3/2015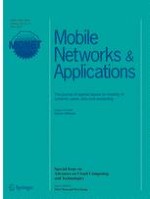 An Efficient RFID Search Protocol Based On Clouds
Zeitschrift:
Autoren:

Daqiang Zhang, Yuming Qian, Jiafu Wan, Shengjie Zhao
Abstract
In RFID applications, we may have to search a number of particular goods in a large-scale number of products. Previous work solve this problem to some extent. Firstly, they cannot work when the cardinality of
X
is lager than
Y
. Besides, they assume the reader has a powerful capacity which is adequate for computation. In this paper, we propose ITSP – Iterative Tag Search Protocol based on cloud which solves these two problems. It uses multi-rounds communication on behalf of one-round communication to make search work when |
X
| > |
Y
|. Besides the readers request cloud service to help do computation to make up its limited computation capacity. Further, we still study the security during RFID Search. To be secure, ITSP authenticates readers and tags in advance to keep secure. Experimental results show that proposed scheme achieves higher searching efficiency with the improvement at least 19 %.