2018 | OriginalPaper | Buchkapitel
2. An Empirical Analysis of Herzberg's Two-Factor od Work Motivation Applied on Hospital Employees in Jordan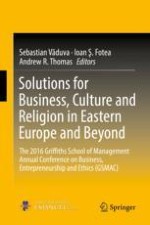 Erstes Kapitel lesen
Autor: Ph.D. Adriana AnaMaria Davidescu
Abstract
The objective of this study is to identify the main motivational factors for employees from Jordanian private and public hospitals to see what kind of factors will manifest a higher impact on the overall level of motivation. Also, the paper aims to analyze the potential differences in the opinions of employees from the public vs. private hospitals regarding the main growth and hygiene motivational factors. A structural equation model was used to empirically test the Herzberg's two-factor theory of work motivation. This study is based on a sample of 325 employees from 6 hospitals in Jordan.
The findings of research support the two-factor theory of work motivation, revealing that both hygiene and growth motivation factors manifest a positive impact on the overall degree of motivation.
The empirical results revealed that growth factors manifested a higher impact on the overall level of motivation comparative with the hygiene factors, but both of them generate increasing the level of motivation.
Regarding the hygiene factors, rewards have a higher impact on motivation, while the well-defined mission statement of the company, having the necessary information for performing tasks, and receiving vocational education at the workplace are considered to be the growth factors with a highest impact on overall motivation of employees.
Analyzing the differences between employees from private and public hospitals regarding the main motivational factors, it is worth to mention that there are not statistical differences between the opinions of employees from public and private hospitals regarding wage, rewards or interpersonal relations, highlighting that not financial incentives are the main reason for the decision of people to work in a private hospital.
But regarding the growth factors, employees from private hospitals in Jordan declared to be more motivated by having a listener of their ideas, thoughts and suggestions, by receiving encouragement or receiving training for their tasks.
This implies that in order to get motivated employees, management needs to give their employees knowledge, information and training. By creating such a context, the intrinsic value of employees is likely to improve, and they will be able to advance in their occupational role.