01.09.2015 | Ausgabe 1/2015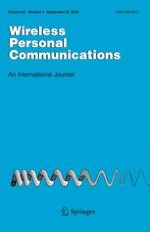 An End-To-End Rate Control Protocol for Intermittently Connected Networks
Zeitschrift:
Autoren:

Euiyul Ko, Dohyung Kim, Hanjin Park, Ikjun Yeom, Euiseong Seo
Abstract
In this study, we propose a rate control algorithm for intermittently connected networks (ICNs), a type of delay/disruption-tolerant network. The different characteristics of ICNs compared with traditional TCP/IP networks lead to problems that do not occur in legacy networks, such as network partitioning, long and varying delays, high loss probability, and asymmetric data transmission rates. To overcome these issues, much recent research has been carried out. However, while the results have helped achieve smooth communication between nodes, there are still certain shortcomings. For example, if many messages are input by the nodes in a network, these schemes do not work well. To resolve this problem, we propose a novel sending rate control algorithm in an additive increase/multiplicative decrease manner. To detect network congestion, we measure the receiving rate, one-way delay, and average number of copies. When the measured receiving rate increases, the congestion window (
cwnd
) also increases; otherwise,
cwnd
decreases. The simulations show that the proposed algorithm can adjust the sending rate of nodes to avoid network congestion and provide a fair share of the network for the nodes.