2019 | OriginalPaper | Buchkapitel
An Ergonomic Approach of IEQ Assessment: A Case Study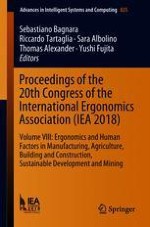 Erstes Kapitel lesen
Autoren: Erminia Attaianese, Francesca Romana d'Ambrosio Alfano, Boris Igor Palella
Abstract
Only in the last fifteen years, the application of the ergonomics principles stated the need to achieve a good IEQ (indoor environmental quality) as a result of thermal, visual, acoustic comfort and indoor air quality (IAQ). The awareness increased that an adequate design of the indoor environment, where people work and live, requires a synergic approach to all facets involved in full compliance with sustainability. IEQ strictly affects the overall building energy performances and exhibits an antagonistic relationship with respect to the energy saving requirements. In addition, the effects of low IEQ levels on the health and the productivity at work could even greater than those related to the energy costs of building facilities.
The role played by IEQ is very important especially in school environments. Particularly, children are extra sensitive to a poor indoor environment as they are physically still developing and, in comparison to healthy adults, will suffer the consequences of a poor indoor environment with also negative effects in learning ability. Because of all mentioned issues an integrated approach in the design and in the assessment of school buildings is required where ergonomics plays a crucial role.
Since more than 20 years InEQualitES (Indoor Environmental Quality and Energy Saving) team, made by researchers and professors from Universities of Salerno and Naples, has focused the research on the environmental quality in schools. The experience gained in the field allowed to build a large database of subjective and objective data and helped us to find effective solution aimed to solve most common problems related to the application of assessment methods.
Based upon this experience, this discussion will be mainly focused to the main criticalities related to the thermal comfort assessment in schools with special reference to the integration of objective investigations (referred to a mean subject statistically significant) and subjective investigations which are the only able to show possible differences (age, gender and so on) in experienced perception.