2018 | OriginalPaper | Buchkapitel
An Evolutionary Algorithm with Practitioner's-Knowledge-Based Operators for the Inventory Routing Problem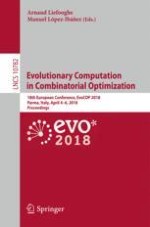 Erstes Kapitel lesen
Autoren: Piotr Lipinski, Krzysztof Michalak
Abstract
This paper concerns the Inventory Routing Problem (IRP) which is an optimization problem addressing the optimization of transportation routes and the inventory levels at the same time. The IRP is notable for its difficulty - even finding feasible initial solutions poses a significant problem.
In this paper an evolutionary algorithm is proposed that uses approaches to solution construction and modification utilized by practitioners in the field. The population for the EA is initialized starting from a base solution which in this paper is generated by a heuristic, but can as well be a solution provided by a domain expert. Subsequently, feasibility-preserving moves are used to generate the initial population. In the paper dedicated recombination and mutation operators are proposed which aim at generating new solutions without loosing feasibility. In order to reduce the search space, solutions in the presented EA are encoded as lists of routes with the quantities to be delivered determined by a supplying policy.
The presented work is a step towards utilizing domain knowledge in evolutionary computation. The EA presented in this paper employs mechanisms of solution initialization capable of generating a set of feasible initial solutions of the IRP in a reasonable time. Presented operators generate new feasible solutions effectively without requiring a repair mechanism.